"It is one thing to intellectually know the situation in which our clients live, but to experience it is extremely impactful." — participant
"It gave me more compassion, more understanding and more fuel to my fire to advocate for real, meaningful change."
More than 60 people from our member organizations took a powerful look at how poverty and health go hand in hand.
BPHC's "Rethink Poverty" simulation and training, which took place last week at BronxWorks, allowed participants to better understand the ongoing challenges many of our community members face in their daily activities such as buying food, accessing social services, or even taking a child to school.
Poverty has a direct link to poor health as evidenced in the Bronx where families experience significantly higher rates of chronic diseases like asthma, diabetes and cardiovascular conditions.
The simulation opened participants' eyes to the anxiety, isolation and powerlessness many of our patients feel and the role we can play in understanding and improving their experience when they visit us for care and services.
Marcia Stoddard-Pennant, Public Health Educator with The Bronx Health Link, took on the role of an 85-year-old woman living in a shelter whose Social Security income couldn't cover the cost of the shelter, her food, medication and public transportation to social service agencies.
"After all is said and done, you can see how families can have very little time and resources left to attend to their healthcare until a crisis occurs," says Pennant. "It makes you very mindful of the frustration people feel when they really are trying to do the best they can and the implications this has on their health."
The Community Action Poverty Simulation is a national training tool provided through the Missouri Action Network. Last week marked the first time the poverty simulation took place in the Bronx. BPHC has provided the funding and resources to sustain the program in our borough. BronxWorks, under the leadership of Executive Director Eileen Torres, has been trained to go forward and offer the program to organizations.
For questions about the poverty simulation, please contact Mary Morris.
Click here to view BronxNet's story about the Poverty Simulation.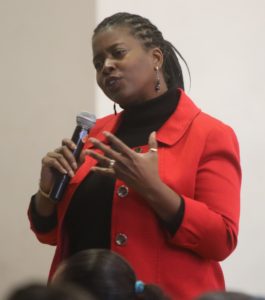 Dr. Nicole Hollingsworth, Assistant Vice President of Community & Population Health at Montefiore Medical Center, provided a framework for understanding poverty in the Bronx, reminding participants that "the opportunity in poverty is that it can be changed."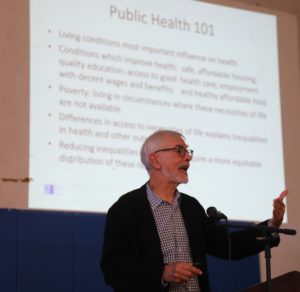 Dr. Nicholas Freudenberg of the CUNY School of Public Health convened an informative discussion on strategies for achieving health equity in the Bronx.