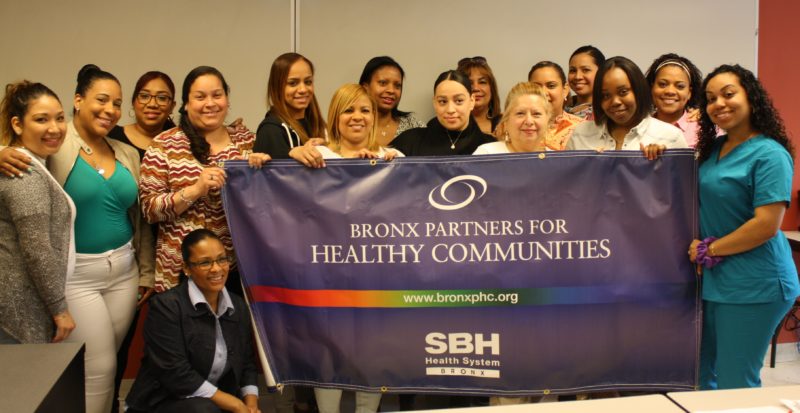 Our first group of graduates from our Medical Office Assistant Refresher and Certification Program. 
DSRIP is opening doors to new jobs, opportunities and roles for healthcare workers – roles that enhance your scope of work and prepare you for community-based care.
Participants who take BPHC's Medical Office Assistant Refresher Training are eligible to take an exam for national certification, which takes place on the last day of training.
One growing and important role is that of the Care Coordinator who works with the patient, doctor and the community to ensure that the patient is going to follow-up appointments and receiving any needed local services such as meal deliveries, smoking cessation programs, and mental health services.
Our Care Coordinator Training series ensures that workers in these roles have the preparation and support needed to coordinate care for people who have many medical and social service needs.
Communication is also critical to working with patients who come from diverse backgrounds and have various experiences with the health system.  BPHC trainings provide the skills and insights to listen, speak and offer care through the lens of a patient's culture, beliefs, languages and communication style.
Our 2018 Winter/Spring DSRIP Training Series
BPHC is pleased to offer our winter/spring training series. These trainings fill up quickly so register employees early to ensure a spot. Click on the links provided for more information including how to register. For further questions about trainings, contact Venus Goulbourne.
Leadership and Change Management Training
Two-Day Training
Part 1:  Friday, May 4
Part 2:  Friday, May 11
9:30 a.m. – 4:30 p.m.
Strong and positive leadership is essential to organizational success, especially when guiding staff through change. Leaders need the training and tools to ensure that staff are informed, engaged and prepared for changes in the workplace. Course participants will explore leadership styles and what it takes to be a manager and a strong leader in today's healthcare environment.
Click here for course flyer and information for how to register.For questions about the program, contact Mary Morris.
 DSRIP Care Coordinator Series
Care Coordinator Training Program
March 8 – May 10, 2018
Weekly on Thursdays
10-day training (70 hours) training for Care Coordinators, Depression Care Managers, Care Management Supervisors (and equivalent titles). The course covers the core skills and competencies that are critical for the care coordinator role, as well as Motivational Interviewing, and best practices for Working with People with Behavioral Health Conditions. Now also includes Social Determinants and the Law, which focuses on making referrals to legal services. More.
To register for this training, contact Maria D. Galafá at mgalafa@sbhny.org.
Care Management Supervisor Training
One-Day Training
Thursday, May 24, 2018
One-day training (7 hours) for new or experienced supervisors to clarify their role, identify practices they want to improve, and learn strategies to support the care coordination staff they oversee. More.
To register for this training, contact Maria D. Galafá at mgalafa@sbhny.org.
Social Determinants of Health and the Law
Thursday, June 7
9:30 a.m. – 5 p.m.
Many of the social and environmental conditions affecting our community members' health can be addressed through legal solutions. This one-day course helps patient advocates understand and recognize when their patients or clients may need legal assistance or intervention to address issues like housing, immigration or domestic violence. Participants will learn to recognize when a legal referral may be helpful and will be provided with a comprehensive Legal Referral Resource list for Bronx patients.
For Coordinators (and similar titles), Case Managers, Social Workers, and their supervisors
Click here for course flyer and registration information .
Read more about how our trainings prepare our workforce to care for patients with complex needs. More.