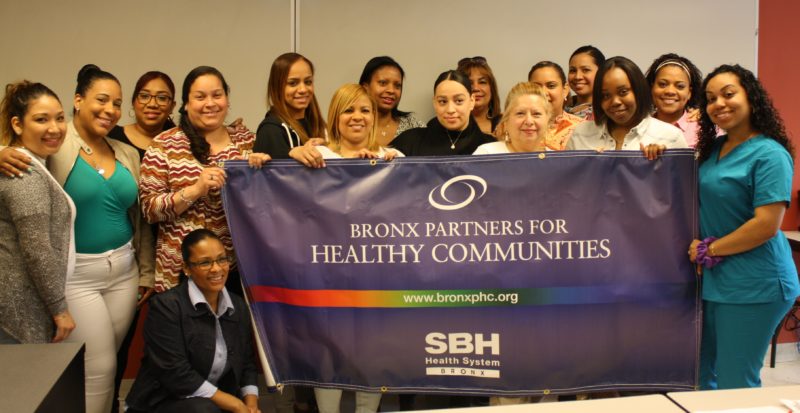 Our first group of graduates from our Medical Office Assistant Refresher and Certification Program. 
DSRIP is opening doors to new jobs, opportunities and roles for healthcare workers – roles that enhance your scope of work and prepare you for community-based care.
Participants who take BPHC's Medical Office Assistant Refresher Training are eligible to take an exam for national certification, which takes place on the last day of training.
One growing and important role is that of the Care Coordinator who works with the patient, doctor and the community to ensure that the patient is going to follow-up appointments and receiving any needed local services such as meal deliveries, smoking cessation programs, and mental health services.
Our Care Coordinator Training series ensures that workers in these roles have the preparation and support needed to coordinate care for people who have many medical and social service needs.
Communication is also critical to working with patients who come from diverse backgrounds and have various experiences with the health system.  BPHC trainings provide the skills and insights to listen, speak and offer care through the lens of a patient's culture, beliefs, languages and communication style.
DSRIP Care Coordinator Training Program
January 16 – March 19, 2020
Weekly on Thursdays
9 a.m. – 5 p.m.
CUNY on the Concourse
2501 Grand Concourse, 3rd Floor
Bronx, NY 10468
Description:
Today's emerging healthcare models, such as Patient Centered-Medical Homes, Health Homes and Accountable Care Organizations, depend on a skilled workforce that has the training and support required to be able to coordinate care for complex, high-risk patients with multiple social service needs.
This program delivers comprehensive training on the core skills and competencies that are critical for the Care Coordinator role. Topics are presented in a series of ten weekly, full-day classroom sessions. By going beyond the traditional lecture-based learning, this program strengthens students' critical thinking skills by engaging them in rich discussion, individual exercises and group activities. Upon completion of this program, participants will be prepared to be strong, productive members of healthcare teams that provide coordinated, patient-centered care.
Participants will complete the course prepared to be strong, productive members of healthcare teams that provide coordinated, patient-centered care.
Course Participants
Care Coordination (and equivalent titles), Depression Care Managers, Health Home Coordinators, Nurse Care Management Supervisors, Patient Navigators, Program Mangers
Topics:
Week 1 (January 16) – Intro to New Models of Care and Person-Centered Care; Care Coordination and the Social Determinants of Health; Values and Bias
Week 2 (January 23) – Working with Behavioral Health Patients
Week 3 (January 30) – Health Literacy, Communication, and Education; Cultural Competence and Cultural Humility
Week 4 (February 6) – Chronic Conditions
Week 5 (February 13) – Motivational Interviewing
Week 6 (February 20) – Best Practices for Conducting Assessments and Care Planning
Week 7 (February 27) – Integrating the Care Manager Role into Current Practices; Interdisciplinary Teams and Care Management
Week 8 (March 5) – Transition of Care and Closed Loop Referrals, Medication Management, Working with Pharmacists
Week 9 (March 12) – Social Determinants and the Law
Week 10 (March 19) – Community Resources
(Snowday make up date: Thursday, March 26, 2020)
To register for this training contact Maria D. Galafa at mgalafa@sbhny.org